One year ago, Orlando local girl Stephanie, a minor, highlighted her personal trauma in a segment on HuffPost Live entitled "How The Families Of Sex Offenders Cope"
This segment was talking with families of convicted sex offenders, and the effects that the conviction has had upon them. Many times the families of the offenders are overlooked as additional victims in the wake of these crimes. These families experience extreme amounts of loss as well and yet they are very slow to speak out because of the shame that accompanies the issue.
Stephanie wanted people to know her story to give hope to others who may be going through this – and that a local non-profit organization, The Lovely Project was integral in her healing process
---
The Lovely Project exists to empower girls with the knowledge of their Value, Voice, and Valor regardless and to spite their life's circumstances. Their website highlights Lovely Like Me stories which are true, of girls with whom they have personal relationships, in order to bring hope to others who many be currently dealing with some the same situations. Topics range from: cutting, bullying, rape, parental drug abuse, divorce, molestation, and other relevant issues to teen girls today. Stephanie's story was first published on TLP's website under a pseudonym, at her request.
Huffpost Live, through a web search found her story and contacted TLP who then approached Stephanie and her mother to see if they would be interested in this opportunity to share on this national platform. Not only was she willing to come out publicly, but she also was willing to put a face to her story and so the Lovely Project republished the article with her actual name, to coincide with the live broadcast.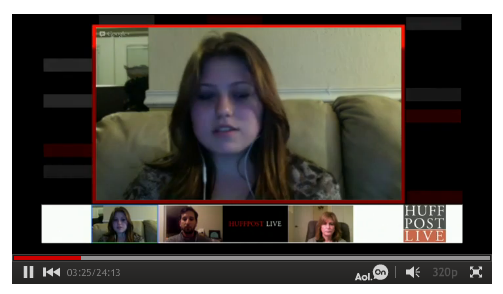 Through this experience, Stephanie was able to tell her story to an even broader audience.
She became emotional while reliving the details of the police showing up at her home where she and her brother were alone. They were there to arrest her father for viewing child pornography on the internet. The police proceeded to search her home, confiscate items and question Stephanie and her brother, all while Stephanie tried unsuccessfully to reach one of her parents via telephone. She went on to explain how it devastated her family after her father was incarcerated.
Not only did it change their life financially, emotionally, and physically, she also began to live in constant fear that people would find out, until she found out about The Lovely Project. She became involved with TLP, where she met peers who had been through other tragedies of their own. These girls were up front and honest about them, and accepted each other for who they were. Empowered by the acceptance of her peers, Stephanie personally chose to be strong and focus on her grades, and not let her father's bad choices ruin her life.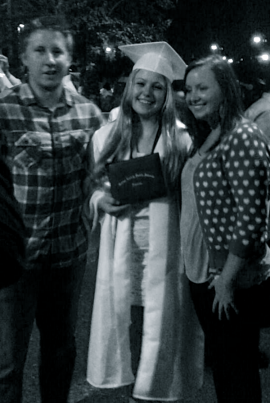 One Year Later
One year later, Stephanie is living out her determination to see this be used for the good of others. She has become actively involved as a mentor at The Lovely Project herself, aiding in other girls' Becoming Lovely process, and will actually be one of the leaders at The Lovely Project Experience 2014, a live event that brings the Lovely message to girls via a large-scale multimedia, production. She has graduated high-school with a 3.8 GPA, and is enrolled at a local university (UCF) as a Hospitality major. Her dream is to be a chef and open her own restaurants.
Stephanie continues to advocate by desiring to live a lovely life, pursuing her dreams, and being open to a relationship with her rehabilitating father who is still in a probationary situation, living outside the home.
When asked what she would say to someone going through what she is right now, she said, "I would tell her to surround herself with the right people who know what's happened and still love and support you, like I did. If you don't do this, it will ruin your life, because secrets ruin your self-image, and you will make it your identity, even though you're not the one who committed the crime. Don't make it your identity. It's not. It's up to you who you want to be. Things do and will get better. There will come a day that you no longer think about it, I promise."